Pilot Profile – Patreon
---
Similar to donations, becoming a Patreon is not mandatory nor expected for Walker pilots. However, it's an option for one to make a recurring financial contribution to support Airline operations (servers and service providers), enhancements and improvements (modules, functionality, liveries, etc.) – or in any other way the Business Office determines is appropriate and necessary for support of the airline and its pilots.
The Walker Patreon program is another way for pilots to financially support the company. There are 2 tiers of support that you may choose from.
If you wish to support the company but do not want a recurring charge, you may do so with a donation.
---
Tiers
Tier
Cost (excl. VAT)
Benefits
Supporter
$3.00

Access to Patreon-only Discord channel
Learn about new and upcoming services before other pilots, as well as access to services under testing prior to release  
Take part in conversations about future services
10% off the Walker Store

Freedom of Livery
$5.00

All the Supporter-tier benefits, plus
Freedom to fly any aircraft livery (excluding Walker Events)
Freedom to fly as any callsign when flying online (excluding Walker Events)
Freedom to fly as any other real-world airline (excluding Walker Events)
Freedom to fly an aircraft before the livery is released on the platform (excluding Walker Events)
---
Freedom of Livery - Walker Events
Failure to follow below will result in PIREP rejection and forfeiture of all hours and points earned, not just the double multiplier from the event.
As noted above, Freedom of Livery benefits (use of any livery/callsign) does not apply when flying Walker Events. This is to continue to represent the company in these events, particularly during large scale ones such as Cross the Pond. 
---
How to be a Patreon
If you wish to become a member of the Patreon program, you may do so by heading to the Patreon page on the CrewOps site under Profile - Patreon, or by clicking the hyperlink above.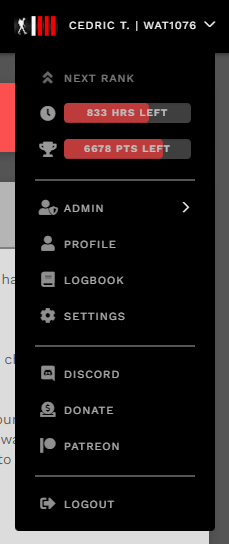 In this page, you will find a "Subscribe Here" button at the bottom, along with "Verify Subscription" and "Re-Sync" buttons which will be discussed further down - this will bring you to the Patreon site where you can enter your payment details.

---
Important Notes
The email address used in Patreon must be the same as your Walker email address, for the systems to interface.
You may start and stop your subscription at any time - payments are valid for the calendar month in which you were charged.
If you choose to subscribe to the Supporter tier and then decide to upgrade to the Freedom to Fly tier, you will need to re-sync your subscription (lower part of the Patreon page in CrewOps) or wait for the next 00:00 UTC for the system to re-verify.
Once you have subscribed in the Patreon website - you MUST return to the Patreon page in CrewOps and click the "Verify Subscription" button to link your profile and ensure you get your benefits. You can check if you are properly verified with the presence of a Patreon symbol beside your name on your profile.



To access the Patreon-only channel in Discord, you must link your Discord account with Patreon. Click here for the guide to linking your accounts.