X-Plane
---
There are a significant number of modifications available in the X-Plane community – from 3D engines to fuselage texturing. We try very hard to ensure we provide you with textures for all of those. Please keep this in mind when you're downloading a livery.

 

You may see a #Modifications folder inside the download link. In that, you'll often find things like Engine textures that are required if you installed an Engine Modification Package – such as the Carda engines for the Airbus. You might also find 'Raccoon Masks' too – it truly depends on what the aircraft is.
Why do you provide engine textures?
Most 3D engine model enhancements use different textures. And because we have a standard design, we must provide Black (Modern Livery) and White (Vintage Livery) textures for those mods. Otherwise, you'll be flying our colors wrong.
---
1.  Download the livery you wish to install from the Walker Air Transport site.
2.  Open the .zip file of the downloaded aircraft.

Copy the folder within the .zip file into the liveries folder of the aircraft – as illustrated below.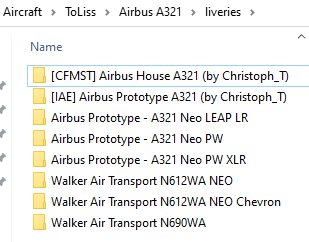 IMPORTANT:  Do not nest the folders when you unzip, or copy, to your liveries folder. It should look exactly like the image below.
| | |
| --- | --- |
| liveries > folder name of livery > objects | |
4.  Load X-Plane. You should now see a WAT livery for the aircraft you installed.