Deleting a PIREP
How to delete your PIREP?
Pilots have a 72 hour clock after submitting their flight to delete it. After that, the option is disabled and you will be unable to remove the flight.
Staff will not remove flights for pilots that fail to use the 72 hour window.
You can find the delete button on the top banner of your PIREP next to your submitted time (remember, you only have 72 hours.)

Click on that button and a warning will pop up asking you to confirm.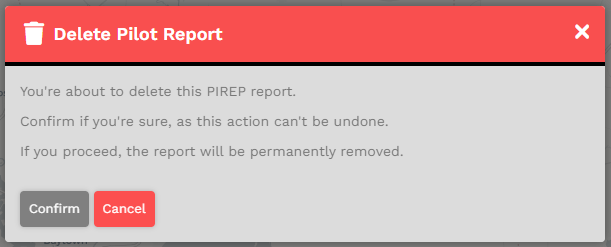 Once confirmed, the PIREP will be removed.
Tour Flight: if the flight deleted was your recent leg for a tour, you will be pushed back to the previous leg so that you can complete the leg again.
This is not recoverable. If you delete your flight, it is lost for good.
---
Restrictions
You will see a disabled trashcan on certain flights that cannot be deleted.
Tour Completed

You cannot delete a flight if a tour is completed.

Not the last completed flight for the Tour

You cannot delete a flight unless it the most recent leg completed.
We do not want pilots on leg 8 of a tour, and delete leg 5 and get pushed back to leg 5.