Microsoft Flight Simulator
---
Locate your Community Folder for Microsoft Flight Simulator.
NOTE:  The location depends on how you installed the simulator and whether it was downloaded from the Windows Store or Steam.
For the Windows Store Install:
C:\Users\[Your User Name]\AppData\Local\Packages\Microsoft.FlightSimulator_8wekyb3d8bbwe\LocalCache\Packages\
For the Steam install:
C:\Users\[Your User Name]\AppData\Local\Packages\Microsoft.FlightDashboard_8wekyb3d8bbwe\LocalCache\Packages\
IMPORTANT:  Windows 10, by default, hides the "AppData" folder. Go to "View" in File Explorer's Menu and select 'Hidden Items' to see it.
For the Custom Install:
If you happened to use a custom location for your Flight Simulator installation, then proceed there.


---
1.  Download the livery you wish to install from the Walker Air Transport site.
2.  Open the zip file of the downloaded aircraft livery.

3.  Copy the folder to your Community Folder location.
NOTE:  All of our liveries have a standard naming convention – WAT-ABCD. If that's not what you see in the Community Folder, then you incorrectly copied it and/or nested the folder.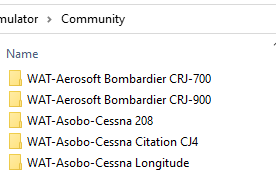 4.  Load MSFS. You should now see a WAT livery for the aircraft you installed.